Kill Cliff: Now Serving in the Java Café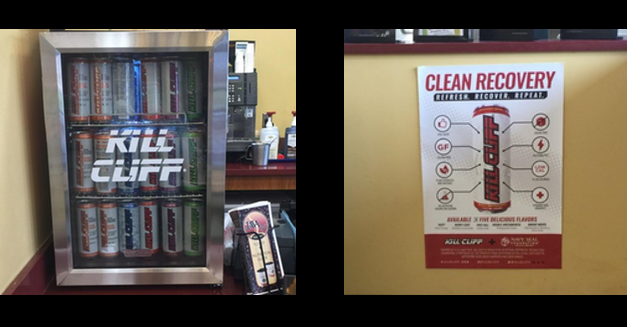 As of today, Kill Cliff recovery drinks are featured for sale in the Java Café on Fort Benning, GA. What does "Kill Cliff" mean? It's all about overcoming obstacles.
The Ferriter Group first met with Kill Cliff in August 2016 in Bellevue, WA and established targets and desires for Team Kill Cliff. LTG Ferriter and COL Greg Allen helped cultivate greater understanding of opportunities through many phone calls, as well as visits to Atlanta, GA. The Ferriter Group connected Team Kill Cliff with Fort Benning Family and Morale, Welfare, and Recreation (MWR) and achieved success with products placed in MWR facilities.
Mary Whitney Whittaker, TFG Business Development, visited the Main Post Java Café today (1685 Gaudette Street). She saw soldiers repeatedly asking about the recovery drinks. The MWR employees behind the counter were given a sample of the drinks. They shared details with the enquiring soldiers; one employee smiled, saying "it has a great energy kick!"
As a Navy SEAL founded product--with the mission of being the largest contributor to the Navy SEAL Foundation--Kill Cliff is supporting warriors, families, and sponsored athletes with clean recovery drinks. Team Kill Cliff enjoys working with veterans and veteran owned businesses. It's been a pleasure to work toward success together--and we won't quit.
Bonus: Purchasing Kill Cliff recovery drinks includes a pair of Shades. The future is bright!