Honor Guard Training with Behind the Badge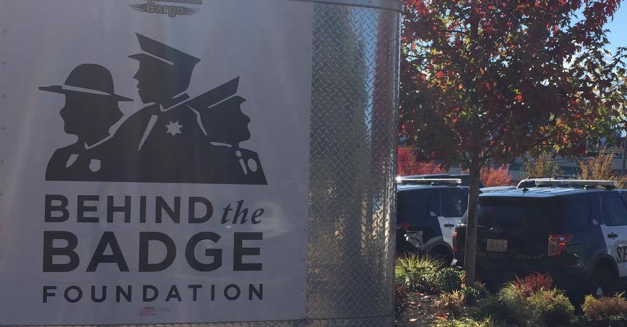 On Monday, 10 October, Mike and Margie joined Behind The Badge Foundation's 2016 Regional Honor Guard Training. The class included 176 members in attendance who represented nearly 50 departments in 3 states. As Shannon Sessions noted, 22 hours of intense training facilitated by 23 staff instructors and 15 volunteers allows the honor guard to demonstrate inspired leadership together and in future events.
Behind The Badge takes the lead in assisting these individuals who have agreed to serve their peers. The last formal training was held in 1995; with recognition of its responsibilities, training is believed to help standardize the professionalism and sincerity of the role.
Mike spoke to the group to thank them for their service as law enforcement and first responders -- and for accepting the challenge and responsibility of being members of the honor guard. He shared that should they have to pay honor to fallen comrade, it would be something they would never forget; they would forever touch the lives of the family members of fallen officer in that difficult and challenging time period. He also advised them to expect the unexpected. People grieve at different paces: some will be angry, others in denial; some appearing strong, only at a later date to break down. Part of the role of Honor Guard is also to lead and carry people through these times; the sober reality of this opportunity should be carefully considered and performed. 
The header image and images below are shared by Shannon Sessions (PIO with Behind the Badge Foundation) and Jean Johnson (©2016 Jean Johnson | www.jeanjohnsonproductions.com ). We thank them for sharing these images with us.