Hands-On Inspired Leadership at the Citadel, 16-18 September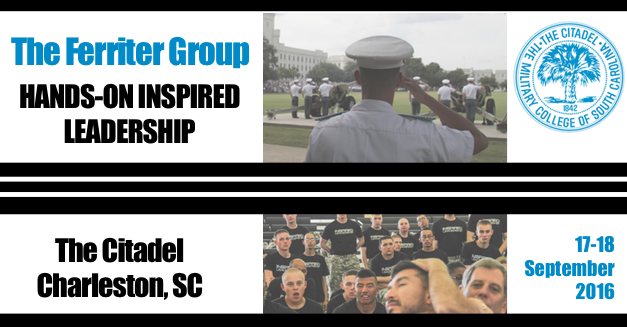 We are pleased to announce that the Ferriter Group will bring Hands-On Inspired Leadership to the entire entering Freshman class at the Citadel on 16-18 September. In a series of interactive sessions, the Ferriter Group HOIL team will work with over 800 cadets. The event will emphasize how this cohort can demonstrate respect, character, and courage as they become the newest members of The Military College of South Carolina.
Using the gentle art of Jiu-Jitsu, cadets will "close the distance" on bullying, violence, and sexual harassment and assault by demonstrating RESPECT for themselves and each other. They will "establish a dominant position" in word and deed with their CHARACTER. And they will "finish the fight" with the COURAGE to act and do the right thing every day. The Ferriter Group will bring together talented and experienced leaders from across the America and deliver a clear message and dynamic energy throughout these sessions.
The group of more than 800 Citadel Cadets will pledge to create and sustain a positive leadership environment following the completion of the HOIL seminar and this 2016 Summer Challenge Week training. As senior leadership stated, this pledge is a decision to do more; pushing beyond "walking by or accepting bad practices or examples just because it's always been done that way."
Learn more about and watch for this weekend of events. 
Press Release: The Ferriter Group - Hands-On Inspired Leadership & The Citadel - 09Sep16. 
---